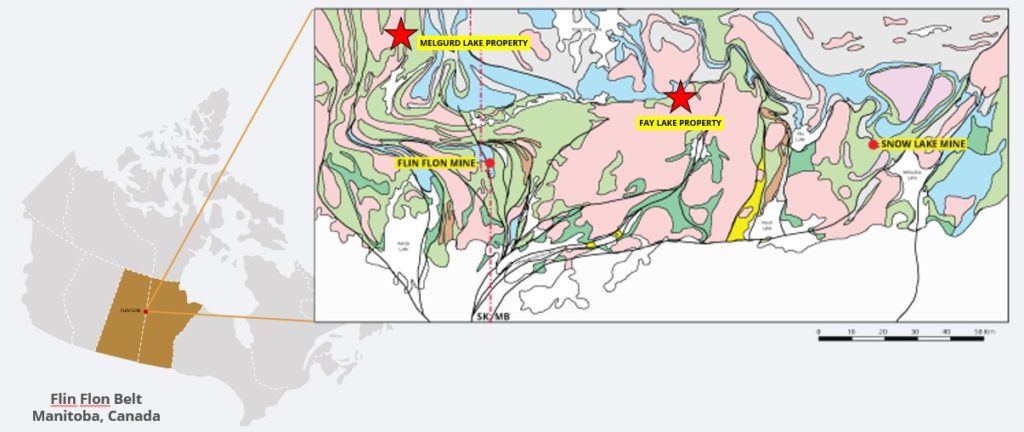 MELGURD LAKE PROPERTY
The MelgurdLake Property is in east central Saskatchewan. The property consists of 10 mineral claims totaling 7060 hectares located approximately 50 km north northeast of the city of FlinFlon, MB and the adjacent town of Creighton, SK.
The Melgurd Property lies within the southern margin of the Kisseynew Lithotectonic Domain near its contact with the Flin Flon Domain.
The zone is an area of structurally overlapping and stratigraphically equivalent lithologies, which, in this area, is continuous between both domains. Recent work in the Keep Lake-Scott Lake-Kakinagimak Lake areas of the property has defined a sequence of intermediate to felsic Amisk Group volcanics metamorphosed to upper amphibolite grade interlayered with metasediments equivalent to the Burntwood Group peliticgneiss and MissiGroup metasedimentary rocks.
The Schott's Lake deposit and other VMS type showings in the WildnestLake/KakinagimakLake area are also characterized by the presence of significant alteration zones of consisting of anthophyllite –garnet +/-cordierite +/-cummingtonite. Within the property boundary are similar zones of alteration identified in the Keep Lake –Scott Lake area and in the Cornell Bay area of Kakinagimak Lake. Similar Alteration has been observed on the property.
The property has the potential for both VMS Cu/Zn deposits similar to those encountered in the Flin Flon –Snow Lake –Hanson Lake areas as well as epigenetic type gold mineralization similar to that identified in the Manson Bay area.
FAY LAKE PROPERTY
The Fay Lake Property lies on the northern boundary of the Flin Flon Volcanic Arc assemblage and their higher-grade metamorphic equivalents in the Kisseynew gneiss terrane. The volcanic assemblages and overlying Missi sediments are of Proterozoic age. The rocks, which have been complexly folded, with a regional metamorphic grade of upper amphibolite.
Strategically located between Hudbay's CU ZN Vamp Lake VMS deposit and the Puffy Lake Gold Mine
The Property contains both a gold rich VMS Deposit (Redwin) and gold bearing quartz veined shear zone similar in mineralogy  to the Puffy Lake Mine
In 1932-33 three shipments totalling 229 tonnes of massive sulphides containing some chalcopyrite along with quartz vein material within or near the sulphides were sent from the Redwin Deposit of to Hudbay Mining and Smelting. The Material assayed too low in copper (<1%) but averaged up to 15 g/t gold in two shipments and 4.5 % in a third. Hudbay Mining rejected the project based on the low copper grade which averaged around 0.5% Cu/t.  
1st shipment 42.6 tonnes of 14.6g/t Au, 50 g/t Ag and 0.2% Cu
2nd shipment 40 tonnes of 15.7 g/t Au, 7.9 g/t Ag and 0.65% Cu
3rd shipment 147 tonnes of 4.5 g/t Au, 4.5 g/t Ag and 0.51% Cu